FT8 Intercontinental DX to/from Europe
Recommended protocol for 
50.323 MHz
During the Northern Hemisphere Summer Es season, 50.313 MHz for FT8 contacts has become very congested, especially in Europe, and stations are increasingly using 50.323 MHz for intercontinental DX working.  In order not to cause QRM to each other, and to permit the most efficient use of FT8 for weak signal DX, it is highly desirable for stations to operate in compatible transmit windows. 

Working with 50 MHz operators in Japan, UKSMG has prepared these guidelines for contacts to/from Europe on 50.323 MHz. 
European stations to transmit in the "even" periods.  That is 00 and 30 seconds past each minute.


Asian and North American stations to transmit in the odd periods.  That is 15 and 45 seconds past each minute.


Please do not use 50.323 MHz for working stations within your own continent.  Europeans working other Europeans is strongly discouraged.


For additional detailed information, the excellent FT8 operating guide by ZL2IFB is highly recommended:


http://www.g4ifb.com/FT8_Hinson_tips_for_HF_DXers.pdf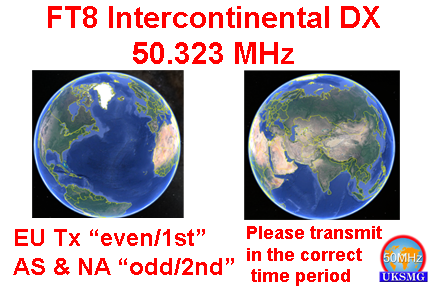 The proposed protocol is also recommended for intercontinental DX (only) to/from Europe on 50.313. But note that, although the reservation of 50.323 for intercontinental DX is strongly recommended for global adoption, the timing protocol described here is not intended to apply to contacts not involving Europe, such as those between North America and Japan.

See  here for further clarification.
Any comments or suggestions please email to g3zyy@uksmg.org or use the comments form below.

Last updated: 17 Jul 2021
---
Comments
Posted by Trev, EA5ISZ on 12 May : 08:25

Registered: 18 Mar : 13:43
Comments: 11

Hi David, yes, the sequence is intended for DX use on 50.323. 50.313 is used for contacts within your own continent as well as DX so at least one half of the contact has to be using the opposite sequence. If calling CQ on 50.313 it would make sense to stick to transmit 'evens' in Europe which would at least give you the opportunity to pick up some DX as well as the 'local' traffic.

Posted by Bob, G8HGN on 26 Apr : 17:43

Registered: 05 Aug : 10:03
Comments: 2

Why on earth did you choose 1st period when all other MGM modes follow the IARU MS procedure, which uses 2nd period when beaming to EU. No research done? I couldn't fathom out why all the newcomers were TXing 1st to EU when ES was about. Really bad choice.

Bob G8HGN

Posted by Bruno, ON6AB on 14 May : 07:54

Registered: 06 Jun : 07:18
Comments: 1

Bob, I'm afraid you're proposing the exact same thing as the UKSMG.
2nd TO EU is 1st FROM EU.

Posted by Bob, G8HGN on 14 May : 18:24

Registered: 05 Aug : 10:03
Comments: 2

Hi Bruno,

Sorry I don't understand. how can it be both? I am explicitly talking about 50.313 NOT 50.323. The JA's messed that up already.
Beam West 1st & East 2nd is what I am saying. No matter where in the world you are. Simple. 73 Bob G8HGN

Posted by Trev, EA5ISZ on 10 Jun : 07:10

Registered: 18 Mar : 13:43
Comments: 11

The trouble is its not simple when referring to operation on 313. For example I'm in Spain, which period do I use to work UK and vice versa? It only becomes sensible to specify periods based upon direction when contacts within your own continent are not an option. On that basis, general agreement for 323 is EU transmits 00/30 and US/Asia 15/45. Of course there are combinations of other countries which will mean its impossible to stick to this, but for the vast majority of QSOs that take place, it will ensure minimial interference from stations within your own continent. This system has now been running for a few years and is generally working well.

Posted by Ilya, 4Z1UF on 10 Jun : 18:42

Registered: 23 Jul : 06:14
Comments: 1

Hi,
just got a (not too polite) advice from EU ham to "switch to 1st sequence" because "all the NA and Carrib are on the 2nd right now" and I'm probably disturbing him (at 50.323) calling CQ on odd.
Would be glad to see some comments.
73!

Posted by EA5ISZ on 14 Jun : 13:33

Registered: 15 Jun : 07:37
Comments: 1

Thanks Lance and Steve for your comments. Lance, we certainly looked at the sequence based upon direction idea but it is flawed in that it leaves the possibility (indeed probability) of both sequences being used within the same continent which will give rise to the QRM we are trying to avoid. That method was fine pre FT8 when much fewer stations were operating together. Now, the result is what we see on 50.313 where all stations are able to use whichever sequence suits. On 313 this is not an issue as most contacts are intra-continental and therefore both sequences must be used and we put up with the local QRM. The intention with 323 is for everyone within Europe to transmit in the even sequence keeping the odd sequence free for DX. No intra-continental QSOs to take place.

If we have made an error here, it is not to have made clear that this is both a recommendation and not a directive, and that it obviously cannot apply to every contact. That is something that we will be addressing shortly. Hopefully for you in VK Steve, and others, the knowledge that EU at least should be listening in the odd sequence will give you the assurance that you will stand the best chance of being heard.

You must be logged in to make comments on this site - please log in, or if you are not registered click here to signup
© ℗ UKSMG Unless otherwise stated, all content copyright UKSMG. This Web site is published on a strictly non-profit basis but please note that UKSMG is not a registered non-profit organisation. The opinions expressed are the opinions of the authors alone and not that of any associated organisations or employers or hosting Internet service providers. No material may be used in other media unless full credit is given to the UK Six Metre Group or the credited original source of the material.